Interview with Marc-Antoine Coulon – the author of the most mesmerizing fashion illustrations!
It is not every day you have the opportunity to interview someone as talented and successful as Marc-Antoine Coulon. A Parisian who stands behind world famous fashion illustrations and iconic portraits.
Born with a pencil in his hand! Fascinated by art, fashion and design. At the beginning of his career worked for record companies in France and Italy and created cinema and theatre posters, including one of his latest collaboration – a musical comedy by Jean Paul Gauthier.
As one of the industry's most renowed illustrators, it is no surprise that his drawings have graced pages of such magazines as  Vogue, Madame Figaro, Harpers Bazaar, Vanity Fair, Elle, L'Officiel de la Mode, New York Observer and inStyle. His work has been showcased in the Christain Dior Museum in Granville and the Fashion Museum in Atlanta. The artist's fashion illustrations and drawings of iconic women from the worlds of fashion and film are the essence of glamour and elegance.
Marc-Antoine knows how to communicate sophistication and character in a simple line; how to pull emotions out of colour; add dimension with grace and elegance; highlight the beauty of his models.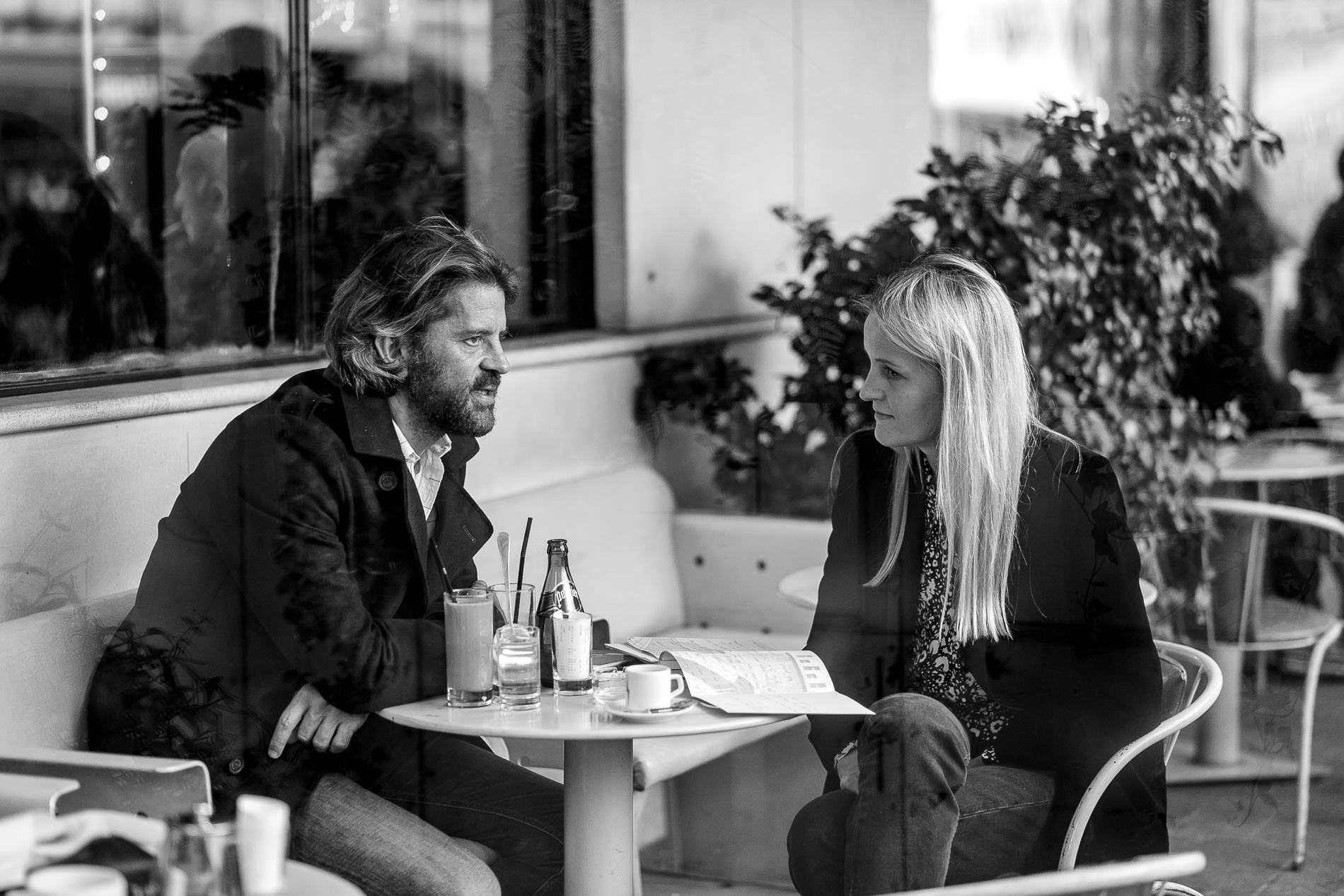 Let's go back to your childhood first. When did you realise that you had an incredible talent? 
I never realised that!!!! And I would never be able to think about myself in such a way! I do not think there was a turning point in my life, any special moment, I remember when I was about two years old hesitating between two shades of blue in my mum's kitchen. I always felt an immense need to create pictures, I could never live without it.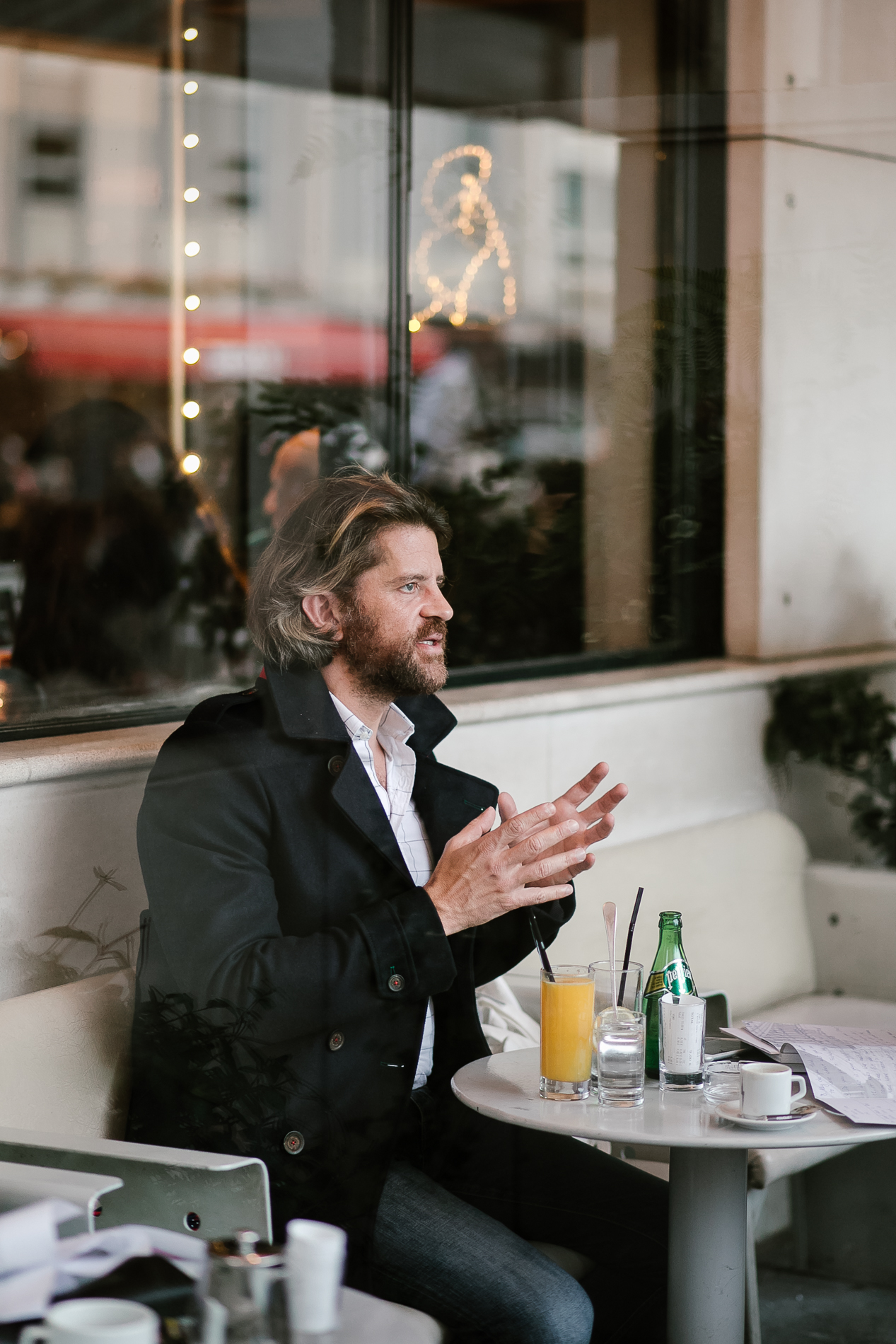 Marc-Antoine Coulon, the French fashion illustrator, who stands behind the most mesmerizing illustrations!
Did you come across anybody who noticed your talent and guided you somehow? 
I always believed in myself. When I was a child, I believed in myself even too much!  (laughter) I did not have any doubts that one day I would become a famous, international illustrator… Kids are crazy sometimes……
And your first drawings, what did they look like? 
When I was a kid I was obsessed with French singers I watched on TV. There is a funny story about it! I was about four years old, when I saw one of them for the first time, and I instantly fell in love with her. I thought then that she was the most beautiful girl in the world. Twenty years later we became friends and now I am her personal illustrator and we spend holidays together at her house. It was mutual love at first sight!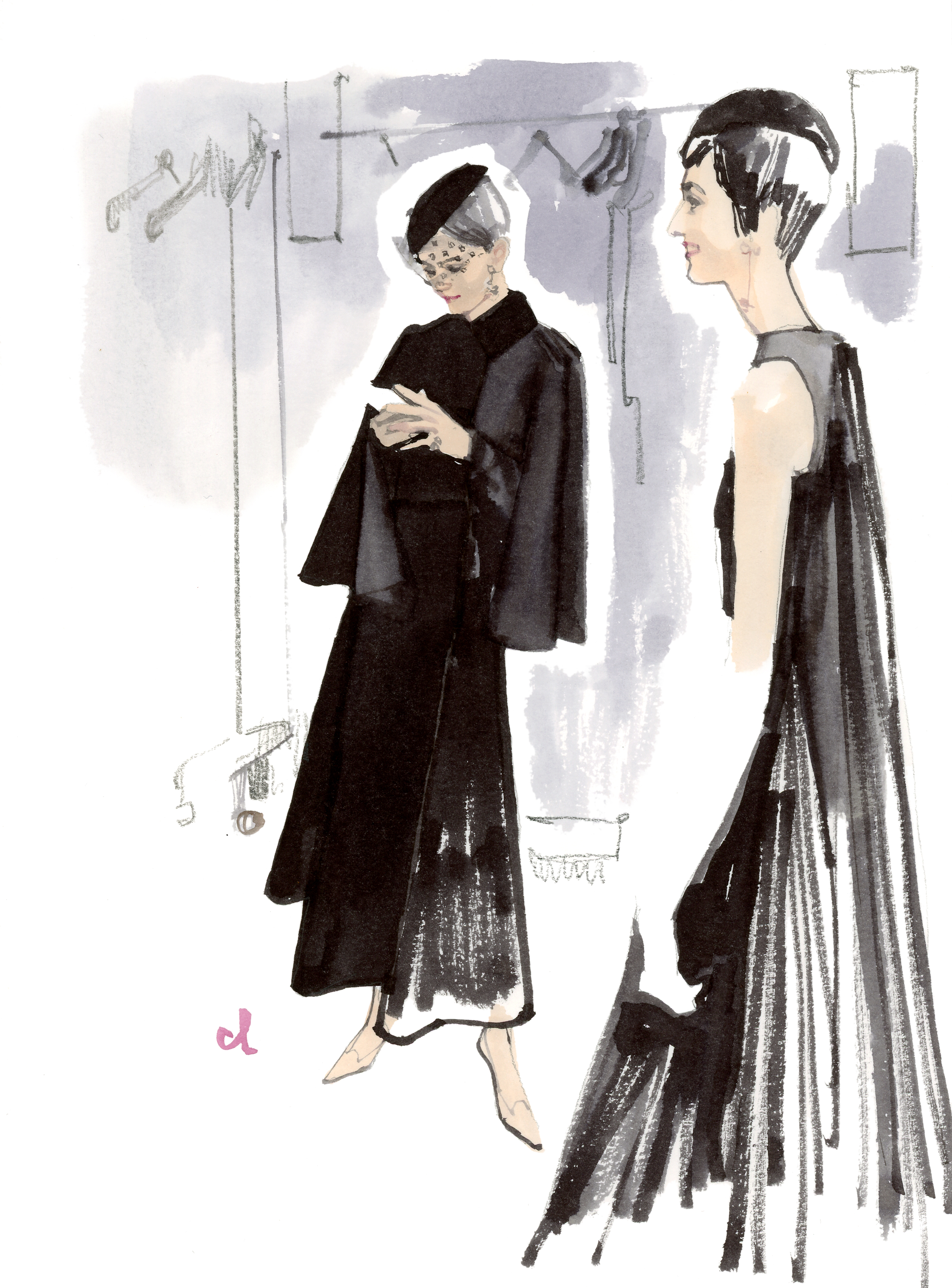 Do you think that good taste develops from a young age? 
I think you can look at this question in two ways, however I am not sure if I am right. You can try to work on your sense of style! To do that, you need to see many beautiful and elegant objects. However I still think that you must have something from the start….
So the sense of style and aesthetics can't be learnt so easily……
One of my grandfathers – God I loved him enormously, may he rest in peace until I get there – had a very bad taste. He would always go for the uggliest possible option! Through his all life, he never improved his taste, but he was happy the way he was. It is important to know your place in this universe. If you work for the fashion industry, then you certainly need to work on your sense of aesthetics. But there are jobs which do not require a sophistocated taste!
French are very chic and they are at ease with a style! 
That' s a question of attitude! Ines de la Fressange once said ,,…don't worry about your style, because you have it. Try to look for old clothes in your dressing, and I am sure you will know how to wear them."  In Rome everybody is so elegant without even making too much effort! However a Parisian won't dress like a Roman, and a Roman won't dress like a Parisian, because they would look ridiculous! What looks stylish in Rome does not necessarily work in Paris! Everybody has their place in this world! If you were born and raised in Rome, you dress like a Roman!
Are there any artists in your family?  
Plenty! And that's why my parents never took me seriously! My passion wasn't anything original! ,,Alright, you are an artist, and so are we! My mother drew, my grandfather was a sculptuer and painter, my grandmother used to draw mad portraits, which were showcased in the Louvre. So, my talent was not anything exceptional!
But your art is exceptional! 
With such family background, you need to be quite brave to do what you love for a living! You need lots of determination to make art as a full time job! I think it is not only about being talented, there have been quite a few talented peolple in my family. My brother draws very well too, but it takes something more than talent – it takes courage and some kind of youthful madness. ,,I will draw portraits and people will pay me for that"! Crazy courage! When you are a grown-up, you want to have a job, which provides you with money and gives you a sense of security. Being an artist does not have anything to do with that, you can never plan anything! This kind of insecurity is always there!  And actually, thank God, it's there! As it's the part of the process that sparks inspiration and motivation!
Uncertainty and frustration are good motivation, inspration and an impulse to carry on….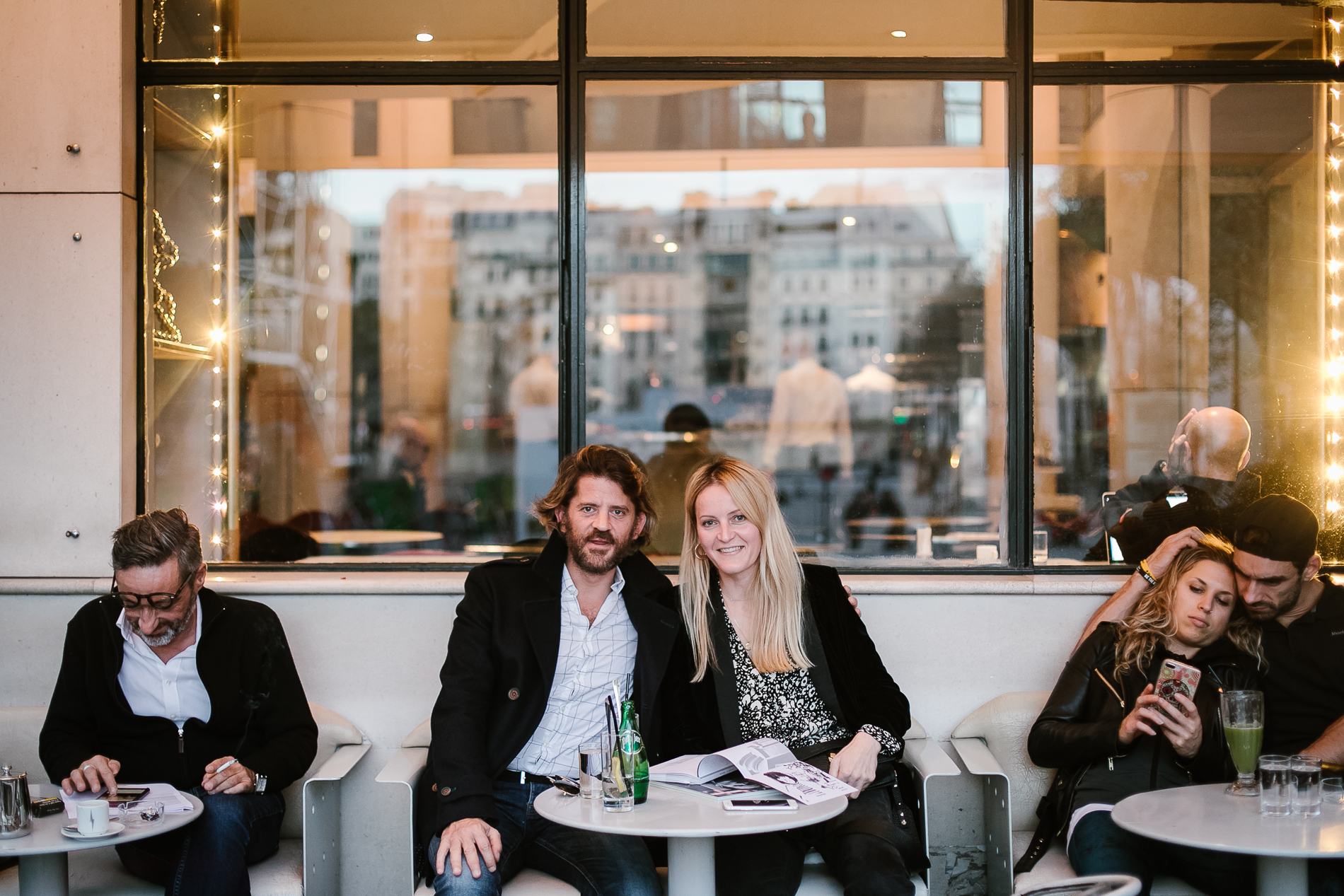 Paris – the capital of art and fashion – people from all of the world come here to look for inspiration. Where do you go to charge your batteries and "breathe some fresh air" ?
Definitely Italy! My grandmother was Italian, so I have some Italian blood in my veins. My dreams are Italian and my life is French, definitely French. I like to think of myself  as a well – balanced mix of these two Mediterranean influences. I go to Italy not only to get inspired, but also to get dressed well!
You are very elegant! Why it is important to dress well? 
We don't live on a deserted island! We should try to look our best in order to show respect to people we meet in the street every day! Our personal culture obliges us to make an effort, to cut it short, it is polite to be elegant! What is more, the way we dress has an impact on how we are viewed! Primitive tribes used to wear tatoos for communication. Our style reveals to some point who we are….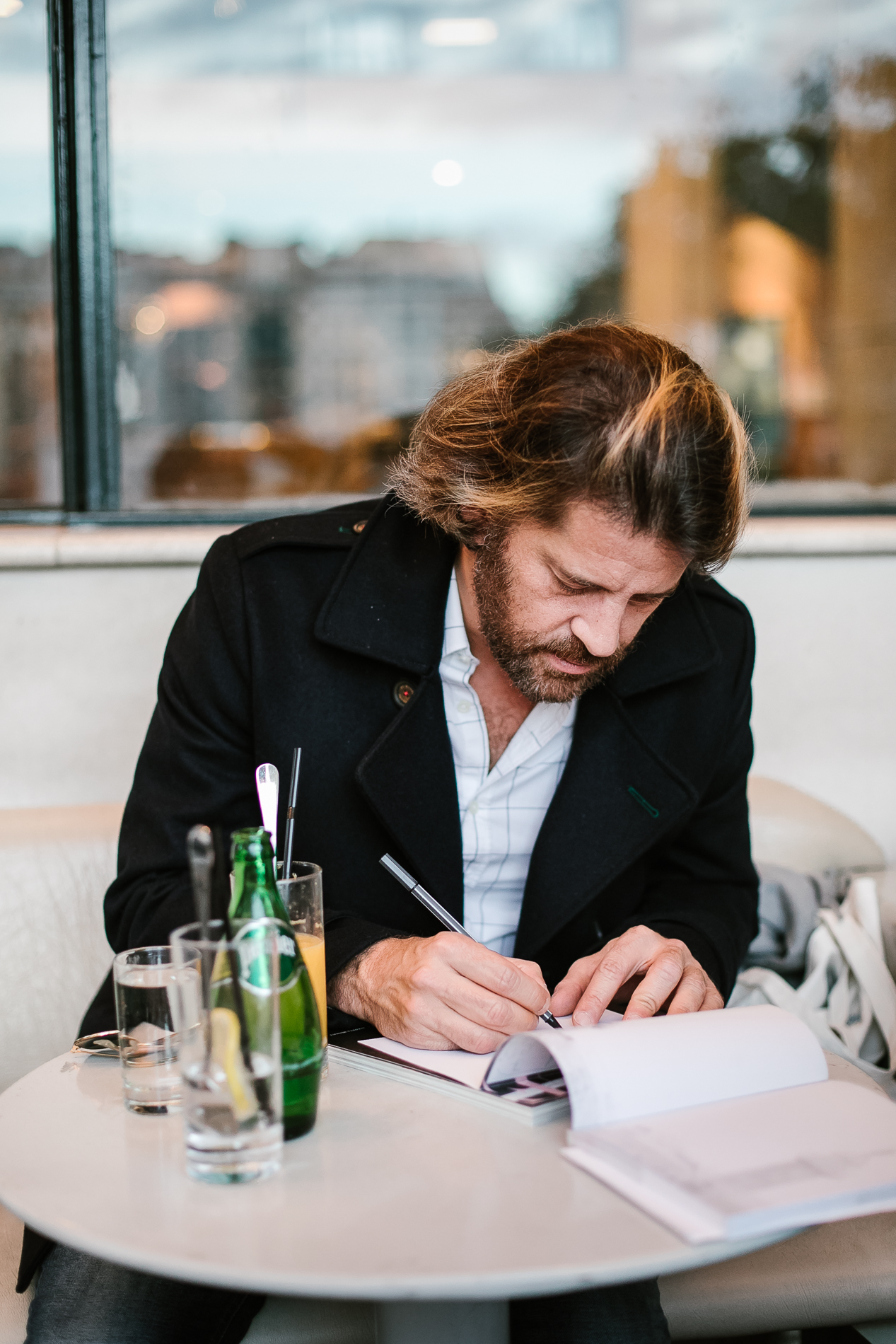 Best dressed women are …
Ines de la Fressange, I love her in every way; Francoise Hardy, what she wore in the sixties is still à la mode; Jane Birkin – eternal style icon!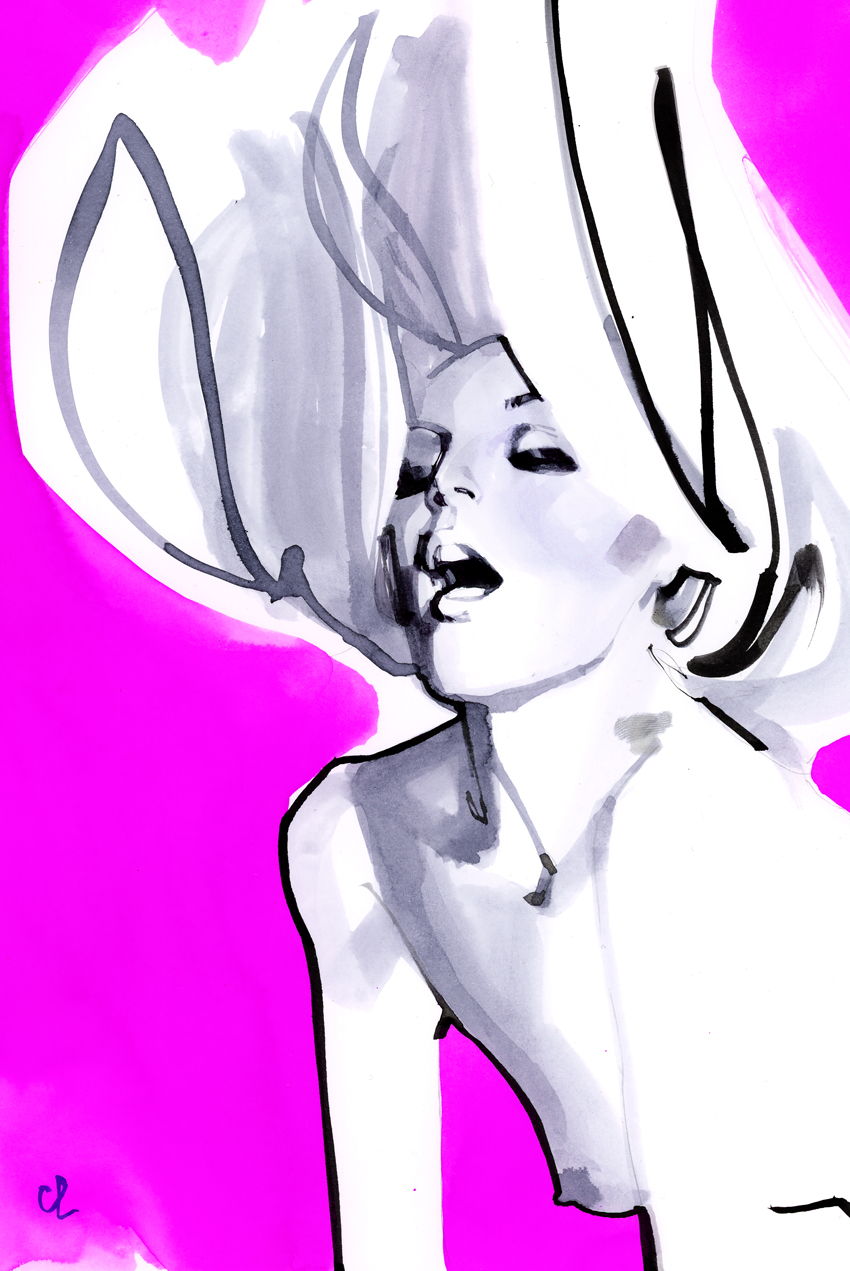 What it is like to cover couture shows as an illustrator?
During Paris Fashion Weeks I feel like if I was taking part in the Olympic Games! I need to be everywhere at the same time. My technique does not allow me to draw live, when you have barely 20 seconds for each piece!  I take pictures and then based on them, I sketch fashion illustrations. By the end of a fashion week, I am exhausted! And still I need to make roughly 50 illustrations within 3 days! I am completely disconnected from the world! I paint day and night!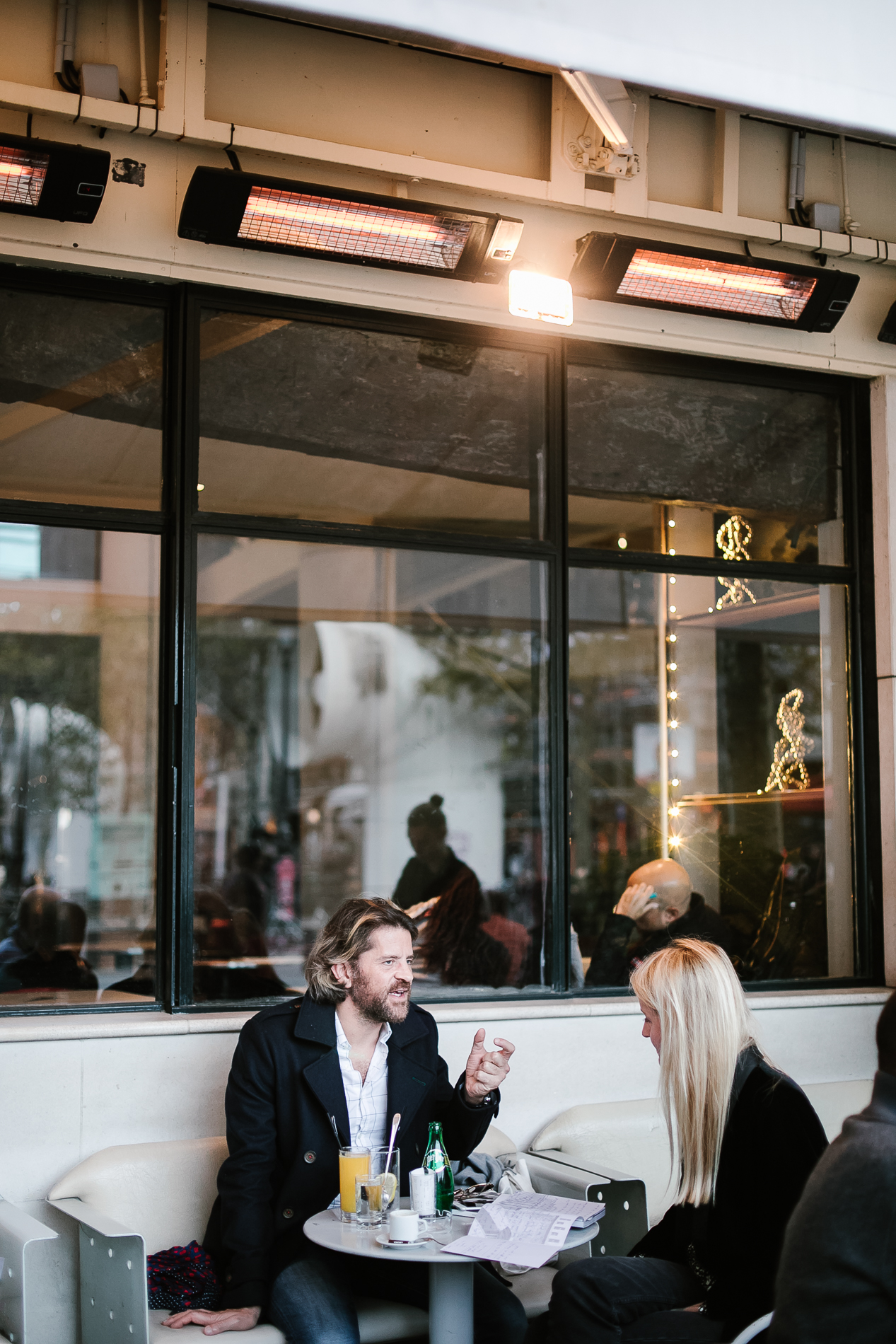 How would you define your style? 
Oh my God, if only I knew it! I can't describe it, but I can say, what I want it to be like! There is always a huge gap between a perfect style and what your clumsy hands can do achieve! If I mastered the perfect style, I am talking about, I would stop painting, because I would be fulfilled. Yet I am not, and I work really, really hard to be less and less frustrated.
I want my portraits to be fluid, soft and vibrant. I also wish to leave some space for my viewers so they can fill it with their imagination and fantasy. I draw not only models, but also silence. I try to listen to my pictures and listen to my models.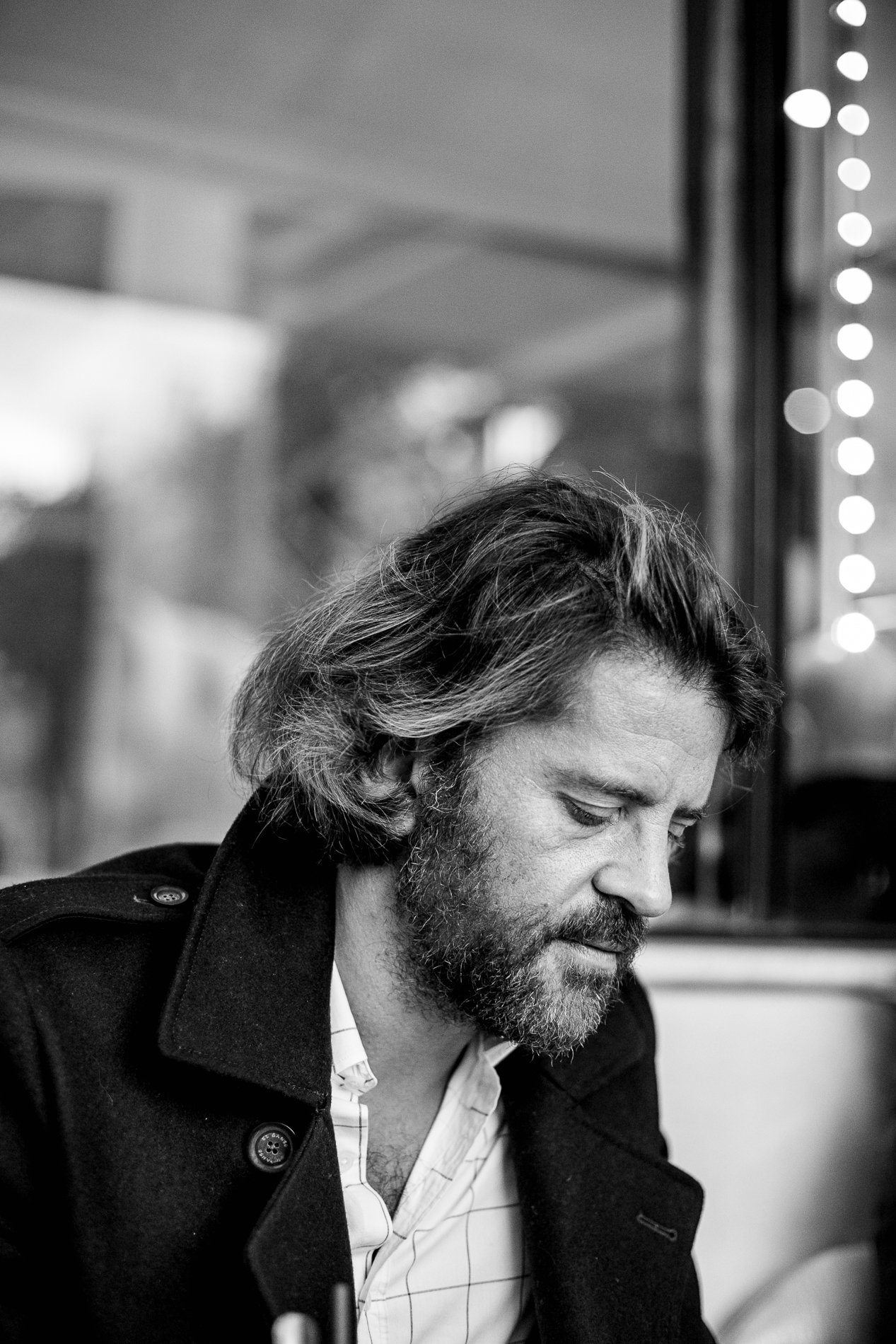 A perfect day in Paris! How would you like to spend it?
That would be a sunny day in Spring! I would stroll along the left bank of the Seine! Take a look at the bookinists! Hunt for old books, newspapers, looking for strange things! I love wasting time walking! For breakfast I would go to one of those typical parisian places Café Blanc, not far from Palais Royal, I love this place! Then, why not visit one of my favourite museums – the Orsay or the Musée des Arts Décoratifs? When I want to take a break, I like to wander around the Opera Garnier area or Boulevard Saint Germain! There is a beautiful place called Aux Prés, where you can enjoy your dinner in an amazing scenery!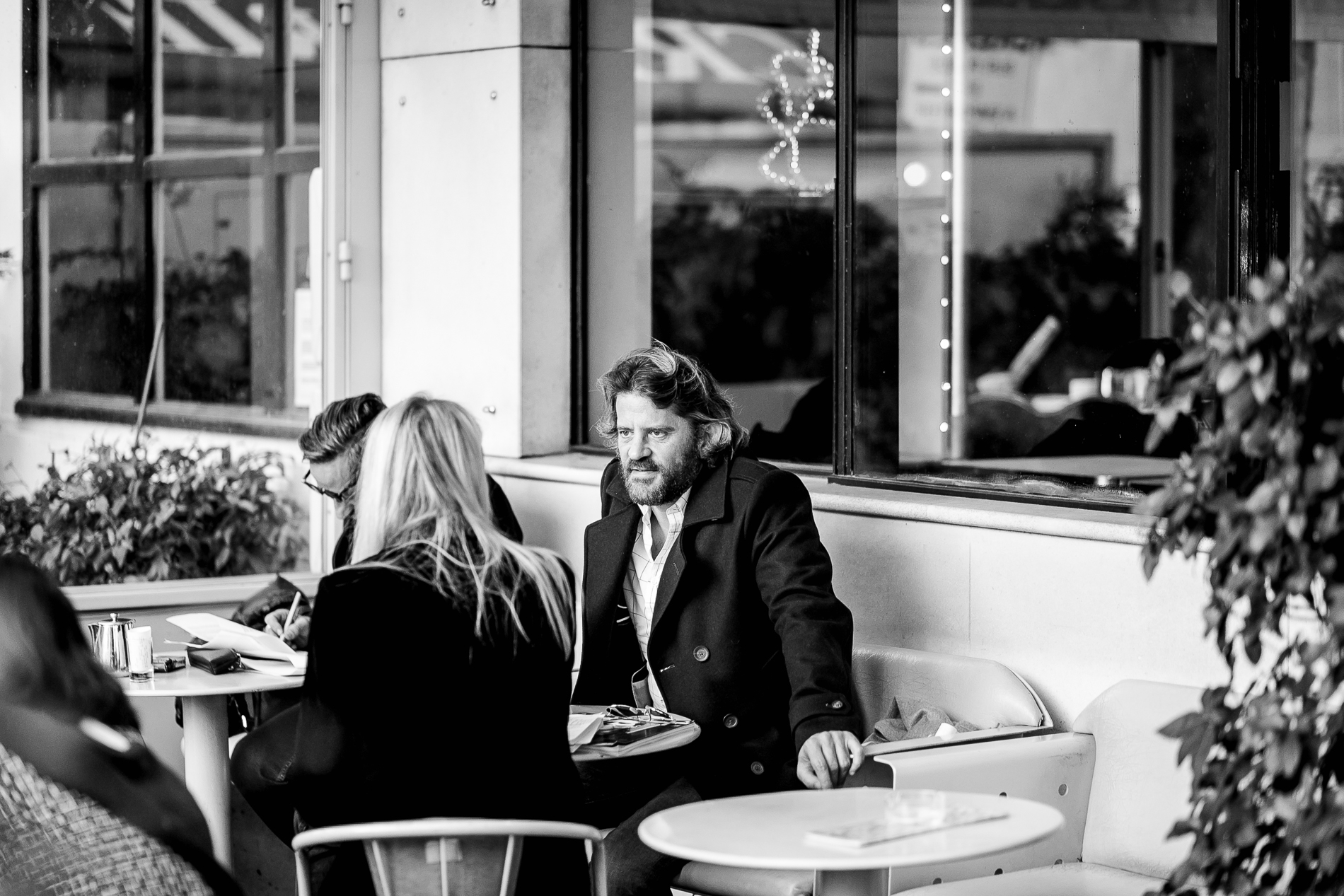 Where will you be in 10 years? 
There are so many things that I would love to achieve! In my notebook, I write down my goals and dreams! And I need to be very careful, because so far everything I put down became reality!  In 10 years time, I would like to be a free person, and it's not a small goal! I would like to be able to choose what I do and how I do it! I want to be, where the sun warms the sky!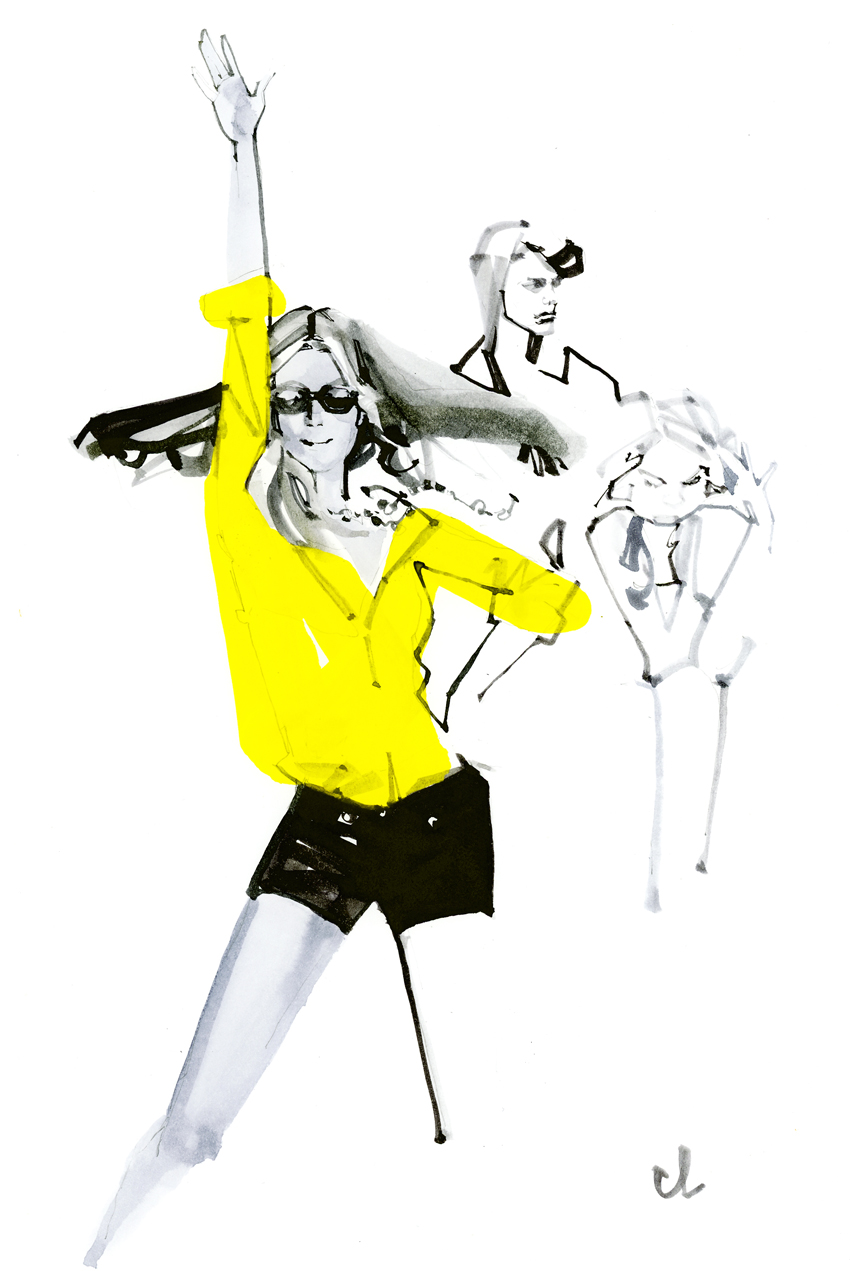 Ps: We asked Marc-Antoine, if he could draw something for Weesh Paris! He made for us a beautiful picture Afternoon in Paris! Thank God, I had a piece of paper, otherwise I would regret not having one until the end of my life:)